How to get to Wuhan
There are direct international flights to Wuhan from some cities in U.S.A, Canada, Britain, Germany, France, Netherlands, Belgium, Switzerland, Italy, Spain, Greece, Sweden, Japan, Korea, Thailand, Singapore, Malaysia, Indonesia, Vietnam, Maldives, Australia, New Zealand and China Taiwan.
Wuhan Tianhe International Airport has opened the new Terminal 3 in August 31, 2017. The airport will have more direct international flights in the future.
For more flight options, you can also fly to Hong Kong, Guangzhou, Shanghai or Beijing international airport, and then transfer to Wuhan.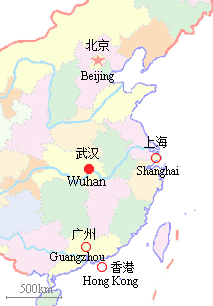 If you are going to go to Wuhan from Beijing, Shanghai, Guangzhou or Shenzhen, we strongly recommend you to take the high speed train (CRH). It only takes about 4-5 hours to get to Wuhan from the cities above, and It's very convenient and punctual.
You can book high-speed train tickets from english.ctrip.com.
There are three CRH railway stations in Wuhan, which are Wuhan Railway Station, Hankou Railway Station and Wuchang Railway Station. They are displayed on english.ctrip.com as Wuhan, Hankou and Wuchang. The three railway stations are interlinked with the Wuhan Metro. ( Wuhan Metro map )
From Beijing to Wuhan, please take the CRH train from Beijing West Railway Station. It is displayed on english.ctrip.com as Beijing West. Beijing West Railway Station is interlinked with the Beijing Metro, and is the terminal of Metro Line 7. ( Beijing Subway map )
From Shanghai to Wuhan, please take the CRH train from Shanghai Hongqiao Railway Station or ShangHai Railway Station. They are displayed on english.ctrip.com as Shanghai Hongqiao and Shanghai. The two railway stations are interlinked with the Shanghai Metro, and Hongqiao Railway Station and Shanghai Hongqiao Airport is interlinked. ( Shanghai Metro map )
From Guangzhou to Wuhan, please take the CRH train from Guangzhou South Railway Station. It is displayed on english.ctrip.com as Guangzhou South. Guangzhou South Railway Station is interlinked with the Guangzhou Metro, and is the terminal of Metro Line 2 and Line 7. ( Guangzhou Metro map )
From Shenzhen to Wuhan, please take the CRH train from Shenzhen North Railway Station or Futian Railway Station. They are displayed on english.ctrip.com as Shenzhen North and Futian. The two railway stations are interlinked with the Shenzhen Metro. ( Shenzhen Metro map )