Looking back on InterWEIGHING2014
During April 19~21, 2014, the InterWEIGHING2014 was held successfully in Dongguan, Guangdong, China. A total of 324 exhibitors, who were from 20 provinces in Mainland China and others from the United States, Germany, Netherlands, Italy, Spain, Portugal, UK, Finland, Poland, Turkey, Japan, South Korea, Malaysia and China Taiwan & Hong Kong, enthusiastically participated in the exhibition.
Most of exhibitors have much confident with the exhibition; they actively registered to attend the exhibition. Although the exhibition venue is far from Jiangsu & Zhejiang where is concentrated of weighing instrument manufactures, what's more, Dongguan is not so convenient in transportation compared with Shanghai, however, the amount of exhibitors decreased only 7% than 2013. The exhibition area reached nearly 22,000 sqm which is decreased only 15% in area than 2013. InterWEIGHING has kept continuously above 20,000 sqm in area for four years since the breakthrough 20,000 sqm in Shanghai, 2011.
Due to the exhibition venue was fixed in Dongguan of Guangdong, so exhibitors from Guangdong were the most than exhibitor's number from other provinces for the first time. The booth area from Zhejiang's exhibitors was still the largest. Guangdong and Zhejiang's exhibitors' number are separately took up one fifth in the whole exhibitors' number and separately took up one quarter in area. Jiangsu, Shanghai, and Fujian provinces were the 3rd, 4th, and 5th. The exhibitors from above five provinces which approximately took up three quarters in total exhibitors' number, and the area took up five sixth in total exhibition area.
In all exhibitors, members of CWIA took up two thirds in exhibitor numbers and took up five sixth in exhibition area. Non-members took up about one third in exhibitors' number and the area only took up one sixth. There were 53 exhibitors who were the first time to attend the exhibition took up one sixth in exhibitors' number and took up one fourteenth in exhibition area.
Among the exhibitors, there were two fifth exhibitors who made custom-built booths and their area took up three quarters in total area. The other three fifth exhibitors chose standard booth which area took up one quarter in total area.
According to incomplete statistics, among all of the exhibitors, 70% of them, exhibits were commercial / industrial weighing instruments, family scales or balance; 20% of them, exhibits were load cell / weighing indicator; 10% of them, exhibits were other (e.g. weights, chip, shell, battery, cable).
According to incomplete statistics, the number of professional visitors amount to more than 7500 people who came from 29 provinces of China Mainland and 83 countries of worldwide. 39% of the visitors were from Guangdong; 14% of them came from out of China Mainland.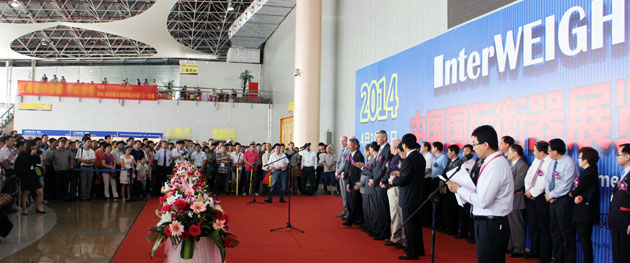 Opening ceremony
At 9:30 on April 19, InterWEIGHING2014 is observed the grand opening ceremony in Lobby of Hall 3 in Guangdong Modern International Exhibition Center. Distinguished guests on the platform were from CNLIC, AQSIQ, the representatives from Canada, Finland, Korea, and the representatives from China National Institute of Metrology, NMi, NMO, Federal Institute of Metrology METAS, NCWM, Taipei Measuring Instrument Association, etc.
In Opening Ceremony, Mr. President Liu Xiaohua from CWIA, Mr. President Paul Van Enckevort from NMi and Mr. President Zhanghonglu from Taipei Measuring Instruments Association delivered the opening speech separately and in speech words, they all wished InterWEIGHING2014 achieved a complete success.
Organizer invited the Mr. Du Tonghe, Vice Chairman of CNLIC, Mr. Deputy Director Songwei from AQSIQ, Mr. President Zhang Honglu from Taipei Measuring Instruments Association, Dr. PhiIippe Richard from Federal Institute of Metrology METAS, Mr. President Paul Van Enckevort from NMi, Mr. Darrell Flocken from NCWM, Mr. Xu Hang from Institute of Metrology of Fujian, Mr. Volodymyr from Kilotech Ink, and Mr. President Liu Xiaohua from CWIA, totally 9 distinguished guests, cut the ribbon for the event Opening Ceremony.
In exhibition period, the organizer held one and half days <The 13th Weighing Technology Seminar & New Tech, New Products Press Conference> in Hall 3 in Guangdong Modern International Exhibition Center. During the meeting, firstly Mr. Darrell Flocken from NCWM delivered the special report on < National Type Evaluation Program >. In the following, Mr. President Xu Hang from Institute of Metrology of Fujian gave the lecture on topic of < Device of Non-weight Calibrating Large Scale Weighing Instrument- High Precise Weighing Instrument Loading Gauge >. Mr. Researcher Lu Xinguang delivered the speech on topic of <Global First Set of Device -Automatic Weighing Instrument for Material Cycling Test System >, in the following, altogether 6 enterprises introduced the latest scientific researches to audience. Main themes were in below:
Design and Application of High Precision Belt Scale
New Type Multi-column load cell
D29 Instrument
Chute scale
Dynamic Loading Electronic Scale
Internet of Things Instrument XK3190-DS8
High Speed &Precision Weight Sorting Technology and High Speed &Precision Ingredients Instrument
Healthy Weighing Instrument and Portable Medical SOC

Weighing technology seminar
The seminar was not only rich in content but also varied in style. It showed the latest scientific and technological achievements and attracted a large crowd. After every presentation, the audiences raised a series of questions to the speaker, exchange opinions, achieved the desired results and met each side's agree. <New Tech, New Products Press Conference> is a rewarding added-value service. Meanwhile, the meeting provides a platform for new technologies' communication and new products' release in weighing industry. It not only attracted many professions, but also appeals many potential purchasers, and won more popularities and more potential opportunities for companies. Through the speakers' live explain and show-how, visitors could know the newest result of weighing industry in first time.
During the exhibiting period, more than 800 << Proceedings of Weighing Technology >> which was specially prepared for professional visitors were snapped up.

The InterWeighing2014 focused on showing the newest weighing technology and products R&D by exhibitors from around the world, which include all kinds of scales, balance, weighing system, indicator, load cell, testing instrument and device, electronic component and materials used in weighing instrument. These exhibits reflected the latest technological achievements of weighing industry in today's world, meanwhile, showed current development level of weighing industry in today's China. Some of foreign visitors have joined each InterWEIGHING events; each time had new experiences and gains. Some foreign visitors have visited weighing instrument companies; they are familiar with Chinese weighing instrument. After visited all types of weighing apparatuses in InterWEIGHING2014 in Dongguan, they gave a high evaluation to the development and result of Chinese weighing instrument industry for Reforming and Opening-up Policy. The day when opening day of InterWEIGHING2014 is the closing day of the first phase of the Canton Fair, it is a proper time for some of foreign exhibitors and visitors of Canton Fair who are interesting in InterWEIGHING could visit the event. And some of Canton Fair visitors accommodated in Hotels in Houjie of Dongguan. The date and site of InterWEIGHING2014 are make these foreign visitors more convenient to join. So, that is the reason why visitors number of InterWEIGHING2014 didn't decrease compare with the number of InterWEIGHING2013. The exhibition also had been concerned of many users of weighing instruments. Many business people from metallurgy, chemicals, machinery, transportation, food, oil and other industrial systems, who used weighing instruments a lot, came to visit the exhibition in succession. Many trade companies and distributors came to the exhibition for trade talks with the exhibitor. In order to accelerate the pace of development, some weighing enterprises sent their staff to the exhibition to get latest information, exchange experiences and explore cooperation. Many exhibitors and customers signed supply contracts or intent contracts on the exhibition. They expressed satisfaction with the exhibition, and commend the exhibition had a real effects in enterprises promotion, technology exchanges and products launch to markets. The exhibitors felt that they were reap a huge harvest from the exhibition, and showed intention to attend next one. They hope the organizer could promote the exhibition into a world-class level international professional exhibition.
InterWEIGHING2014 organizer has sent thousands of invitations to all visitors from domestic and abroad, weighing instrument key users, provinces & cities Quality and Technology Supervision system and weighing apparatus companies. The organizer also made thousands of information packs which printed exhibition information, and propagandized in《China Metrology》 Magazine and 《Industrial Measurement》 Magazine. These effective propaganda and report methods play a very important role in successfully holding exhibition.
Since 1995, China Weighing Instrument Association has organized 15 International Weighing Exhibitions in Beijing, Chengdu, Shanghai, Hangzhou, Qingdao, Changsha, Nanjing and Guangdong Dongguan. This strongly strengthens economic & technological exchanges and cooperation between China and international weighing industry. This made a tremendous contribution to introduce advanced technology and equipment for China weighing enterprises, to promote the production, process, technology advances, to speed up the adjustment of product structure and to promoting the trade development. In recent years, in addition to being in 2009 global financial crisis there was a little decline and less growing rate in 2011 in exports, China's annual exports of weighing products increase at a double-digit growth rate. In 2013, according to China Customs statistics, the export of weighing products has reached USD1.14 billion; it increased 10.16% than 2012.
The InterWeighing2014 was closed successfully. China Weighing Instrument Association will actively prepare for the InterWEIGHING2015. We believe that under the great support and active cooperation of the CWIA members and weighing enterprises, the InterWEIGHING will achieve great success and get better!
China Weighing Instrument Association
May, 2014
---

Exhibitors Listing of the InterWeighing2014

Floor Plan of the InterWeighing2014