Looking back on InterWEIGHING2018
During April 18~20, 2018, InterWEIGHING2018 was held successfully in Wuhan International Expo Center. A total of 295 exhibitors, who were from 22 provinces in Mainland China and from the United States, Germany, Netherlands, UK, Finland, Spain, Italy, Turkey, Japan, South Korea, India, and China Taiwan & Hong Kong, enthusiastically participated in the exhibition.
At 9:30 on April 18, InterWEIGHING2018 is observed the grand opening ceremony in Entrance Hall at Wuhan International Expo Center. Mr. Liu Xiaohua, President of CWIA delivered a speech and Mr. Haertig from PTB represented Mr. Roman Schwartz, President of OIML gave a speech.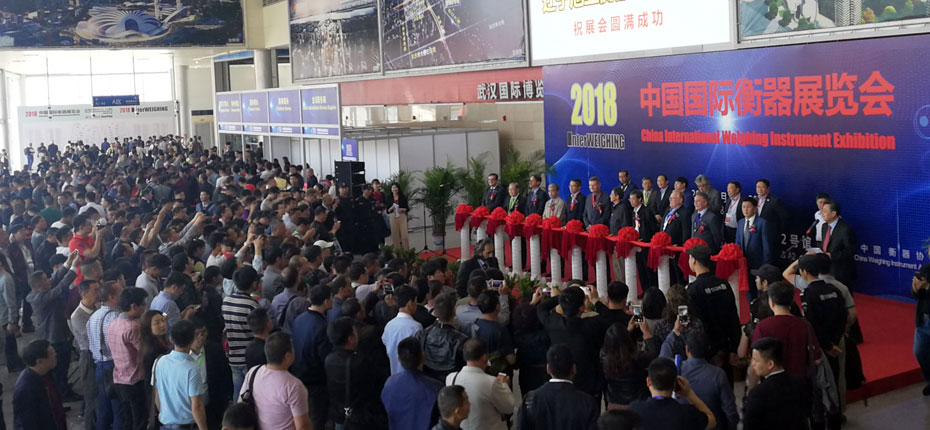 InterWEIGHING2018 opening ceremony
Organizer invited Mr. Haertig from PTB, Mr. Xu Wei from Metrology Bureau of AQSIQ, Mr. Song Wei, President of China Metrology Association, Mr. Liu Xinmin from Metrololy Bureau of AQSIQ, Mr. Ma Aiwen from Chinese Society for Measurement, Mr. Panesar from NMO, Mr. Willenswaard from NMi, Mr. Huang Ming-Der, President of Taibei Measuring Instrument Association, Mr. Alexander from Adam China, Mr. Asikainen from Tamtron Finland and Mr. Liu Xiaohua, President of CWIA, altogether 11 distinguished guests, cut the ribbon for the Opening Ceremony.
According the statistics, there were 295 exhibitors in InterWEIGHING2018. The exhibition area of InterWEIGHING2018 reached over 18,000 sqm. There were 60 new exhibitors in the event and most of them were the first time to this event.
Among the exhibitors, over 40% exhibitors made their booths with custom-built, and the area was 80% of the total exhibition area.
The booth area from Zhejiang's exhibitors was still the largest. Exhibitors' number took up 23.4% in whole exhibitors' number and took up 27.3% in area in whole exhibition area; Guangdong exhibitors number occupied 15.9%, the area occupied 15.7%; Jiangsu exhibitors number occupied 11.9%, the area occupied 15.2%; Fujian exhibitors number occupied 10.5%, the area occupied 13.0%; Shanghai exhibitors number occupied 9.8%, the area occupied 9.2%. Above five provinces were altogether 211 exhibitors which took up 71.5% in total exhibitors' number, and the area took up 77.2% in total exhibition area.
Among all exhibitors, there were 192 CWIA members, this number took up 65% in all exhibitors, but this part exhibition area took up 85% in all exhibition area.
According to the statistics, visitors admissions to the exhibition totalled about 8500. The visitorst came from 31 provinces of China Mainland and 68 countries & regions. 10% visitors were from Wuhan local; 82% visitors were from other regions of China Mainland; 8% visitors came from out of China Mainland. Among the visitors of China Mainland, there were 36% visitors who were from the east region of China. Among the oversea' s visitors, the countries & regions of visitors number over 15 were India, Taiwan, South Korea, Thailand, Malaysia, Hongkong, Japan, USA, Germany, Italy and Singapore.
In the afternoon of April 17 in Wuhan Zhaorui International Hotel, and the whole day on April 19 in Entrance Hall at Wuhan International Expo Center, organizer held <The 17th Weighing Technology Seminar & New Tech, New Products Press Conference>. The members of Technical Experts Committee of CWIA, The members of China Weighing Instrument Standardization Technical Committee and colleagues from weighing industry joined the Seminar. Main topics of the Seminar as below:
Type Evaluation and OIML Certification in Germany
"Internet + Weighing Instrument " Application
Anti-cheating Supervision and Inspection System of Handheld Electronic Price Computing Scale
IOT (Internet of Things) System Narrow Strip Sensor-D28 Instrument
Health Management Starts with Weight
Intelligent Traceability Electronic Scale
Weighing System Data Analysis and Internet Applications

Seminar
During the exhibiting period, almost one thousand "Weighing Technology Papers" which were specially prepared for professional visitors were snapped up. There are 28 articles in the Papers, the content mainly includes four parts: Summary, Load Cell & Indicator, Weighing Technology, Standard & Verification. The articles cover all fields of weighing instrument, summarize and show the latest tech result in weighing industry, which will be also the good guidance and reference for weighing industry.
The InterWeighing2018 focused on showing the newest weighing technology and products R&D by exhibitors from all around the world, which include all kinds of scales, balance, weighing system, indicator, load cell, testing instrument and device, electronic component and materials used in weighing instrument. These exhibits reflected the newest technological achievements of weighing industry in today's world, meanwhile, showed current development level of weighing industry in today's China. Some of visitors have joined each InterWEIGHING event; each time they had new experiences and gains. Some foreign visitors have visited several weighing instrument companies in China; they are familiar with Chinese weighing instrument. After visited all types of weighing apparatuses in InterWEIGHING2018, they gave a high evaluation to the development and result of Chinese weighing instrument industry for Reforming and opening-up policy. The exhibition also had been concerned of many users of weighing instruments. Many business people from metallurgy, chemicals, machinery, transportation, food, oil and other industrial systems, who used weighing instruments a lot, came to visit the exhibition in succession. Many trade companies and distributors came to the exhibition for trade talks with the exhibitor. In order to accelerate the pace of development, some weighing enterprises sent their staffs to the exhibition to get latest information, exchange experiences and explore potential cooperation. Many exhibitors and their customers signed supply contracts or intent contracts on the exhibition. They all expressed satisfaction with the exhibition, and commended the exhibition had a real effects in enterprises promotion, technology exchanges and products launch to markets. The exhibitors felt that they were reap a huge harvest from the exhibition, and showed intention to attend next event. They hope the organizer could promote the exhibition into a world-class level international professional exhibition.
That what was the same with last two events of InterWEIGHING was that it was highlight many type evaluation institutes, verification institutes, standard making institutes related to metrology appeared in the exhibitor's lists continuously.
Moreover, some of the international companies were not in the past several events but came this time. We will talk about the reasons later.
Since 1995, China Weighing Instrument Association has organized 19 InterWeighing events in Beijing, Chengdu, Shanghai, Hangzhou, Qingdao, Changsha, Nanjing, Guangdong Dongguan and Wuhan. It strongly strengthens economic & technological exchanges and cooperation between China and international weighing industry. This made a tremendous contribution to introduce advanced technology and equipment for China weighing enterprises, to promote the production, process, technology advances, to speed up the adjustment of product structure and to promote the trade development. In recent years, in addition to being in 2009 global financial crisis there was a little decline, China's annual exports of weighing products increase at positive growth rate. In 2017, according to China Customs statistics, the export of weighing products has reached USD1.329 billion; it increased 4.04% than 2016.
The InterWeighing2018 was closed successfully. China Weighing Instrument Association will actively prepare for the InterWEIGHING2019. We believe that under the great support and active cooperation of the CWIA members and weighing enterprises, the InterWEIGHING will be getting more successes and getting better!
China Weighing Instrument Association
May, 2018
---

Exhibitors Listing of the InterWeighing2018

Floor Plan of the InterWeighing2018