Official Fair Name
InterWeighing2023
2023China International Weighing Instrument Exhibition
Venue
Nanjing International Expo Center , Hall 6, 7
( 300 Jiangdong Middle Road, Nanjing, China )
Scope and Contents
Various non-automatic weighing instruments, automatic weighing instruments. All kinds of scales, balance, weighing system, indicator, load cell, weights, testing instrument and device, electronic component and materials used in weighing instrument.
Exhibition Dates & Opening Hours
April 18-19, 2023 Build custom-built booths in raw space
April 19, 2023 exhibits' move-in
April 20 9:30 am - 5:00 pm exhibition
April 21 9:00 am - 5:00 pm exhibition
April 22 9:00 am - 12:00 am exhibition
April 22 1:00 pm - move-out
Note: The program is subject to change without prior notice
Exhibition Space & Cost
Standard Shell Scheme Booth
: Cost per booth (9 sq.m.): US$2200
Shell scheme booth of 9 sq.m. (3m x 3m) or its multiple includes carpeted floor space, three 2.5m high wall panels, fascia board with company name and booth number, two spotlights, one single phase socket on 220V/50Hz/500W, one counter desk and two chairs. (
Standard booth Graphic
)
Raw Space only: Cost
: US$2000 per 9 sq.m. (3m x 3m)
Exhibitors have to arrange their own contractors, which should be a exhibition service company registered in China, to build the booth. The design plans must be submitted to the Exhibition Organizer for approval before March 20, 2023. Raw space rental does not include facilities provided for shell scheme booth. (
Raw space booth instruction and recommended exhibition service company
)
How to book
For space reservation, please complete and return the attached
InterWeighing2023 BOOKING FORM
with the required deposit fees to the the Exhibition Organizer. The deposit of 50% of exhibition space cost will not be refunded and the balance must be paid by February 20, 2023. Exhibition space available to exhibitors will be based on the order of receipt of booking forms with deposits.
Exhibitors' Manual
Upon receipt of exhibition booking form and the required deposit, the Exhibition Organizer will issue an Exhibitors' Manual to exhibitors. The manual provides information on details of the venue specifications, stand specifications, official exhibition contractor, official freight forwarder and general rules and regulations.

Organizer
China Weighing Instrument Association (CWIA)
Rm.806 QINGYUN DANGDAI Building
43 N.3rd Ring Rd West, Beijing 100086, China
Tel: +86 10 62115995
Fax: +86 10 62117993
Email:
cwia@interweighing.com
Website:
www.interweighing.com
---
Nanjing International Expo Center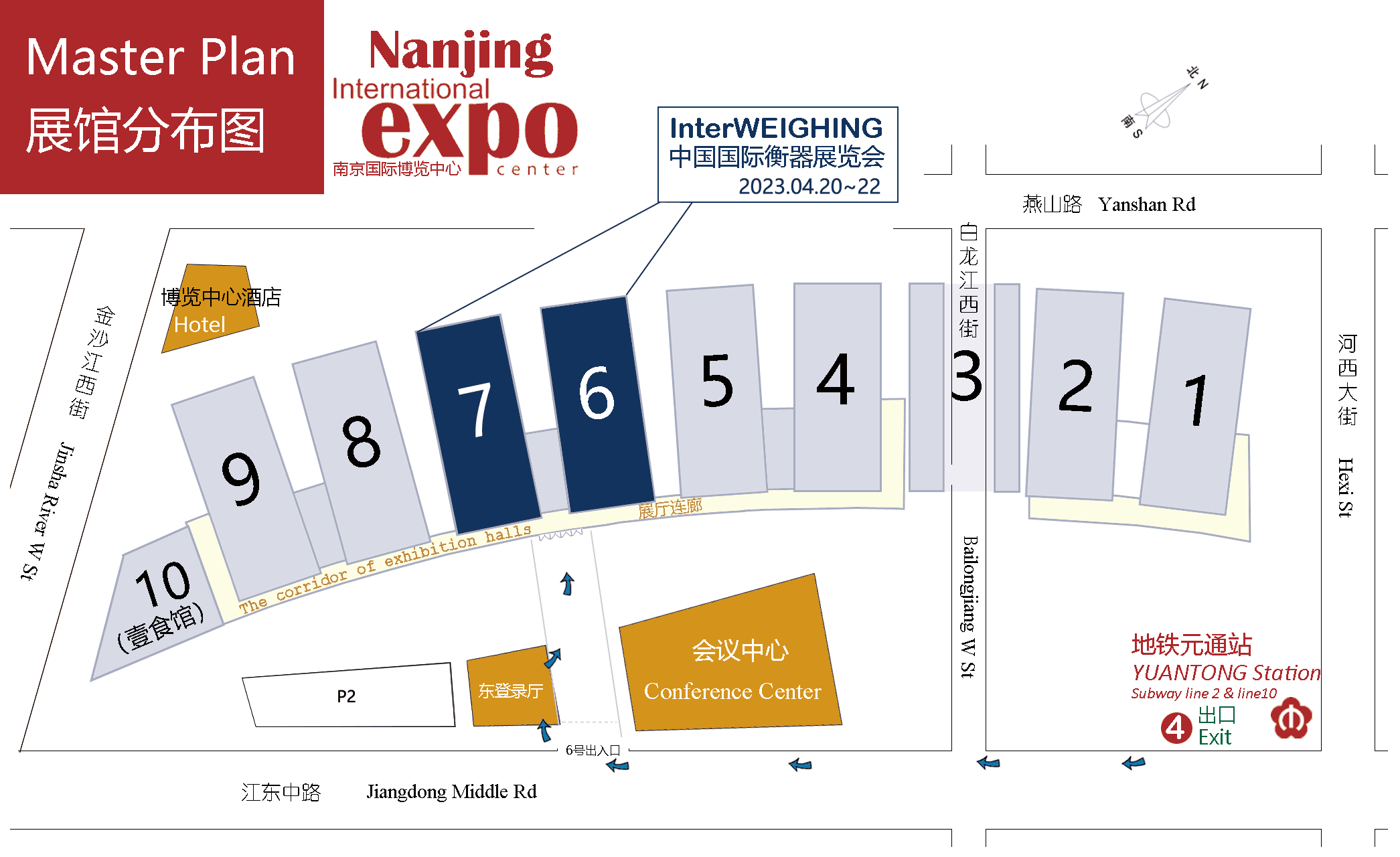 Nanjing International Expo Center faces the CBD of Hexi New Town of Nanjing City, which is one of the landmark buildings in the new urban area, and backed by a vast expanse of water- Yangtze River. Take Metro Line 2/10 and get off at Yuantong• Expo Center Station. It spends 20 minutes there by subway from Nanjing Railway Station or Nanjing South Railway Station. There are eight large single-storey pavilions without pillars and one pavilion on road in Nanjing International Expo Center. The indoor exhibition area is 110,000 square meters, the outdoor exhibition area is 30,000 square meters, each exhibition area is about 12,000 square meters, and the net height of the exhibition hall is 14-17 meters. The underground double-deck parking lot currently has about 3,400 parking spaces, including nearly 40 bus parking space. Within the 5-minute drive area around the expo center, there are many high and middle-grade star hotels, and high and middle-end commercial complexes.
Looking back on
past InterWeighing
June 2002, Beijing
Nov. 1999, Chengdu
Sept. 1997, Beijing
Sept. 1995, Beijing